A rooftop ice rink has just been installed on a 32 story building in Toronto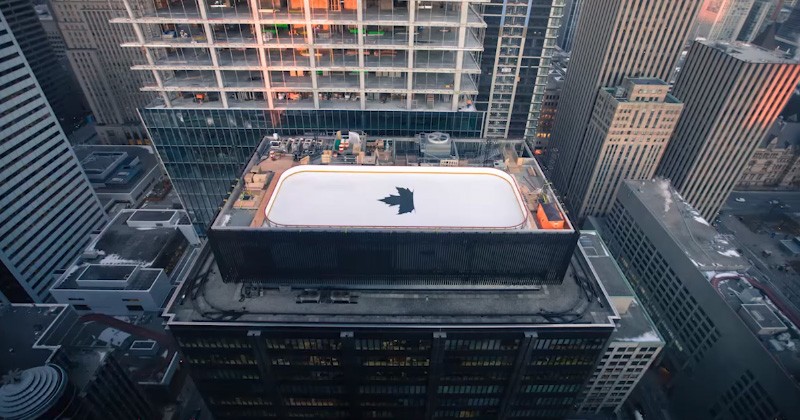 As part of Molson Canadian's 2016 #anythingforhockey campaign, they decided to do something we can't say we've seen before.
The beer brand will be sending four fans to have a game of ice hockey on a custom-built ice rink, on top of a 32 storey building in downtown Toronto, Canada.
Construction is due to be completed on January 10th, and for those wondering what happens if a puck gets flipped out of play, they thought of that as well, regulation glass and nets will be installed to stop the pucks flying off the building.
Recensione Utenti
Nessuna opinione inserita ancora. Scrivi tu la prima!
ALTRI ARTICOLI DI QUESTO AUTORE
Created: 2016-03-18 08:22:18
Category: Architettura Design
Photography by Katz Ltd. As part of the design for an office in Riga, Lativa, architectural and interior design firm
Created: 2015-03-24 02:18:40
Category: Architettura Design
Challenged with renovating a post-and-beam home on a severe hillside, Patrick Tighe Architecture transformed the Montee Karp Residence into a bright and airy house in Malibu, California, with stunning views framing Santa...
Created: 2015-07-03 19:01:59
Category: Architettura Design
Designer Alessio Romano has created CTRL-X, a pair of scissors that are hidden as a decorative object.
Created: 2016-05-03 09:19:28
Category: Architettura Design
Design firm Close to Bone has designed a new viewing tower in Tielt-Winge, Belgium.
Created: 2015-09-30 09:22:04
Category: Architettura Design
Architect Christian de Portzamparc worked together with local architects DPJ & Partners, to create the Christian Dior Flagship Store, located in Seoul, South Korea.
Created: 2016-02-05 03:03:15
Category: Architettura Design
Let start at the beginning…this is Liz and Mark, the inventors of tweexy.